Heating and Cooling Services in Woodbine, KS
Locally-owned and family-operated since 1996, there's no better heating and air conditioning repair service in Woodbine, Dickinson County, or Navarre, KS than KVK Inc.! Our team of highly skilled and knowledgeable technicians specializes in air conditioning and heating system installations, repairs and maintenance, no matter the scope or depth of the job. Call us today for furnace repairs, HVAC duct installation, and other services throughout the surrounding Tri-County area and Central Kansas.
The Authority on Heating and Air Conditioning Repair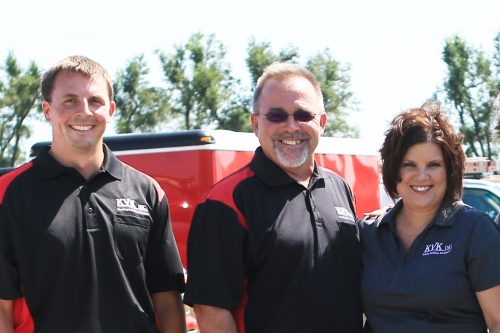 The forced air in your home—your heating and air conditioning in Central Kansas—is central to your quality of life. Being able to adjust your thermostat and get perfectly cooled air in the summer and warm air in the winter is critical to enjoying your home life and essential in staying comfortable and safe. This system requires ongoing maintenance and service, however, which means keeping up with their function before breakdowns, inefficiencies or other such problems arise. For the best HVAC service in Central Kansas—whether for routine maintenance or an emergency issue—make sure KVK Inc. is the only call you're making. We're the leaders for all things heating and cooling, along with air purification systems, prepared to help you achieve the very best forced air quality in your home! Contact us today to learn about our maintenance plans or set up an appointment!
Our capabilities span the gamut of heating and air conditioning services, from helping you find the right installation, to maintaining it throughout its lifetime, to dealing with emergent issues and beyond. We don't just aim to be the company you call when things go wrong: we want to be your complete service provider! We're certain that after speaking with our qualified, personable technicians, you'll swiftly see why we're the authority on all things heating and cooling in Central Kansas. Take a look at why our customers keep choosing us for service and why, since 1996, we've been the local leader for heating and air conditioning repairs big and small:
We're a certified York Dealer, however we have the expertise to work on any and all manufacturer brands and models!
Call us for service wherever you are in Central Kansas! We're pleased to serve Dickinson, Marion, Morris Counties and more.
All of our technicians are trained and certified to provide a wide gamut of services. We're truly your heating and cooling experts!
Our company is fully licensed, bonded and insured for your peace of mind and protection.
We offer a Discount Club Membership Maintenance Plan! Call for pricing and to learn more about the many benefits it will afford you!
---
---
Areas Served
HVAC Contractor servicing Central Kansas including:
Abilene, KS
Chapman, KS
Herington, KS
Hope, KS
Council Grove, KS
Junction City, KS
Woodbine, KS
Manhattan, KS
Enterprise, KS
Salina, KS
Dickinson County
Marion, KS
White City, KS
Solomon, KS
Lost Springs, KS
Lincolnville, KS
Marion County, KS
Saline County, KS
Morris County, KS
Geary County, KS
Ottawa County, KS