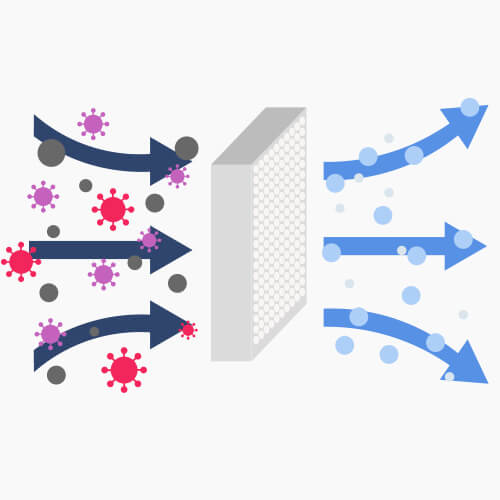 COVID-19 has taught many people the importance of indoor air quality—specifically, having clean, safe, purified air. KVK Inc. is ready to answer the call for cleaner, safer, healthier air in your Central Kansas home! Contact us today to learn more about the iWave air purification system and how it can keep your home's breathable air safe and comfortable all year round, through COVID-19 and beyond.
How it Works
The iWave air purification system is equipped to reduce the presence of coronavirus microbes in your home, as well as other pathogens that may be present in your home's forced air system. It uses ion generation technology to increase the size of particles, allowing them to be trapped and removed via filters. The ionization process also deprives bacteria, mold and other organic pathogens of their hydrogen molecules, causing them to die. The result is cleaner, safer air.
The beauty of the iWave air purification system is that it doesn't use any chemicals or produce any unwanted byproducts. Ionization is a natural process that's safe for kids, pets and anyone else in your household! Best of all, it's a self-regulating, self-cleaning process—meaning there's very little upkeep or maintenance required.
iWave Air Purifier Models
The iWave air purifier comes in several different models, depending on the type of forced air system you have. The iWave-R and iWave-V are both low-maintenance options that are great for whole-home HVAC systems, while the iWave-M fits ductless systems for on-demand purification. One of our experts can help you determine which option is best for your home and its forced air system.
Breathe Cleaner, Safer Air
COVID-19 has shed a light on the importance of clean, safe breathable air in your home. We help Woodbine, Dickinson County, and Navarre, KS homeowners achieve the best possible air quality using iWave air purification systems. Let us introduce you to clean, safe air that's free of bacteria and viruses, as well as dirt, dust, pollen and other allergens.
At KVK Inc., we believe every breath you take should be a comfortable one. Contact us today at 785-257-3224 to learn more about whole-home air purification and the highly-recommended iWave air purification system.